Information for authors
Please respect the information below.
DEADLINE
The deadline for submission and registration is 21 May 2023.
Template for submission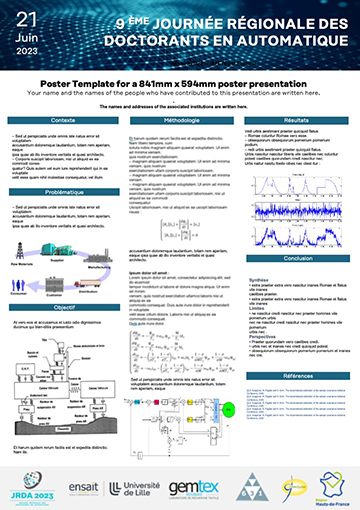 A sample file for the poster is available here – This structure is given as an example, the banners and the graphic chart must be respected.
When you register, (https://www.gemtex.fr/inscriptions-jrda-2023/) a title and an abstract of 200 words maximum must be provided – You can use the the form provided for this purpose or send them by 21 May 2023 at the latest to Sandrine PESSE – Sandrine.pesse@ensait.fr with the subject line "JRDA 2023 Submission – Title and abstract".
My Thesis in 60 seconds" presentation
Without support, it is an introductory speech initiating the interest of the participants to spend time around your Poster.
In this context, we offer an online training session that will help you to be more relevant and persuasive. Each doctoral student who registers for this training will be able to earn Doctoral Training Credits (DTCs), as agreed with their doctoral school.
To register for this course, please contact Sandrine PESSÉ – sandrine.pesse@ensait.fr
All poster authors are invited to participate in this presentation
Participation in the JRDA
Each doctoral student will have the opportunity to discuss his/her research work with the participants
Prizes for the best poster and the best presentation will be awarded
Each doctoral student presenting a poster will be able to earn Doctoral Training Credits (DTC), according to the agreement with his/her doctoral school